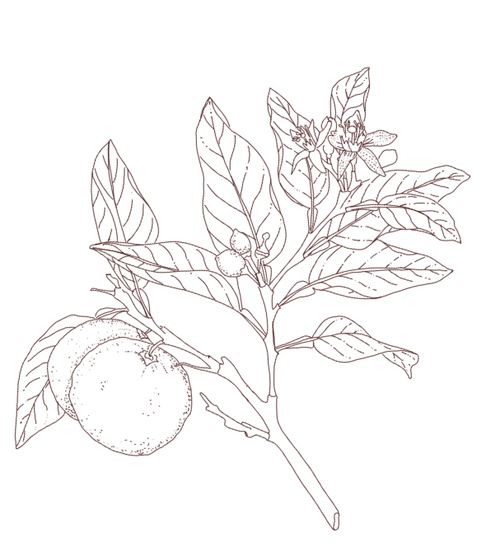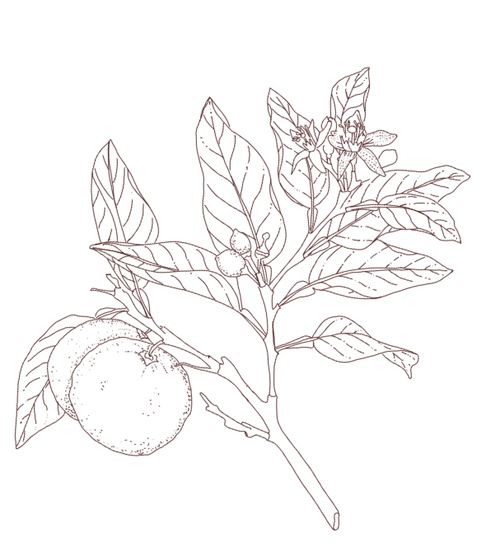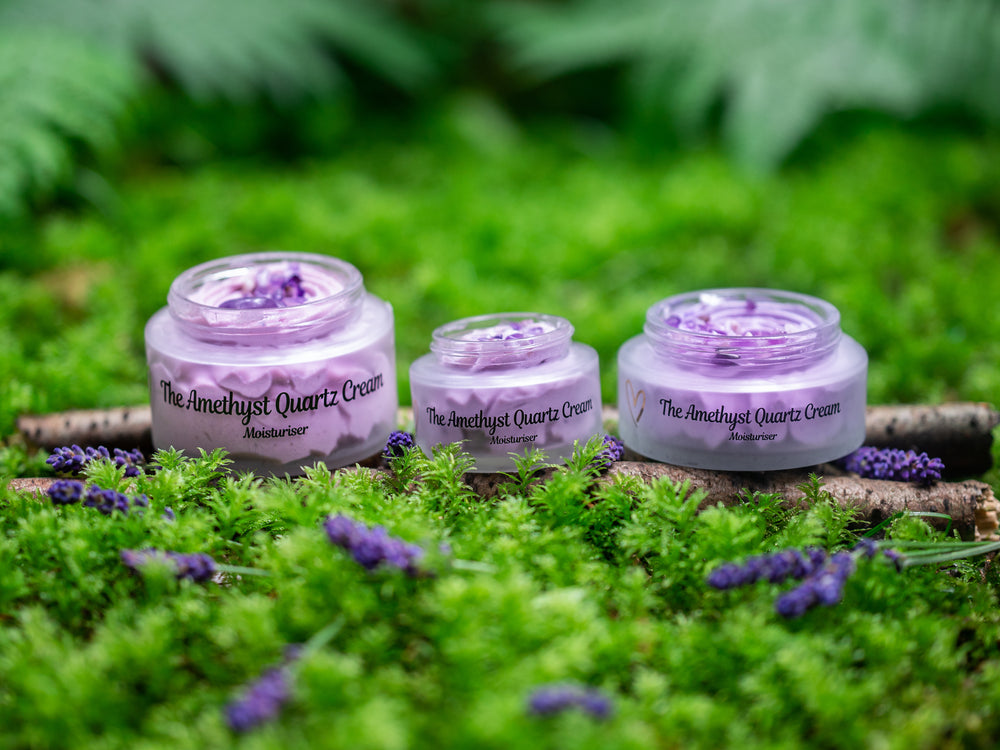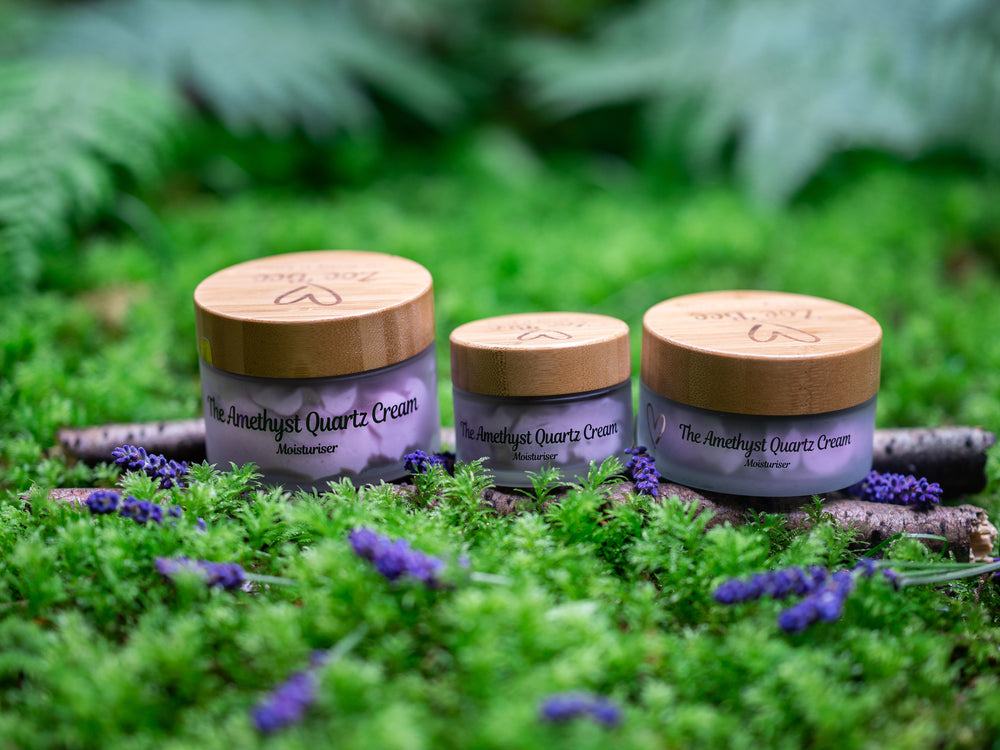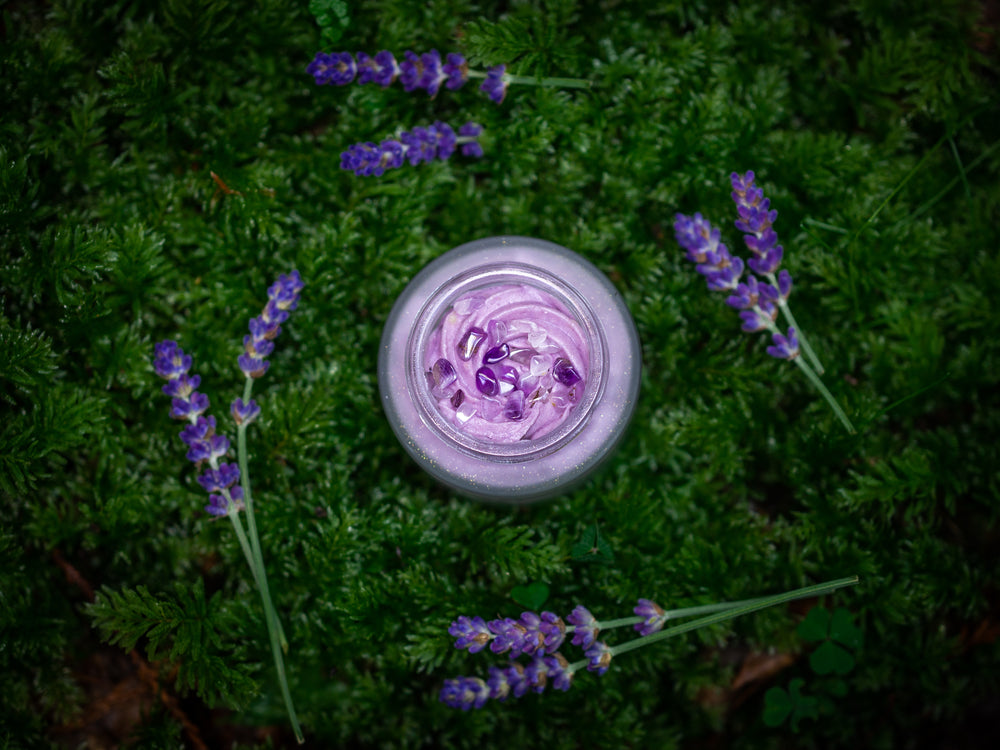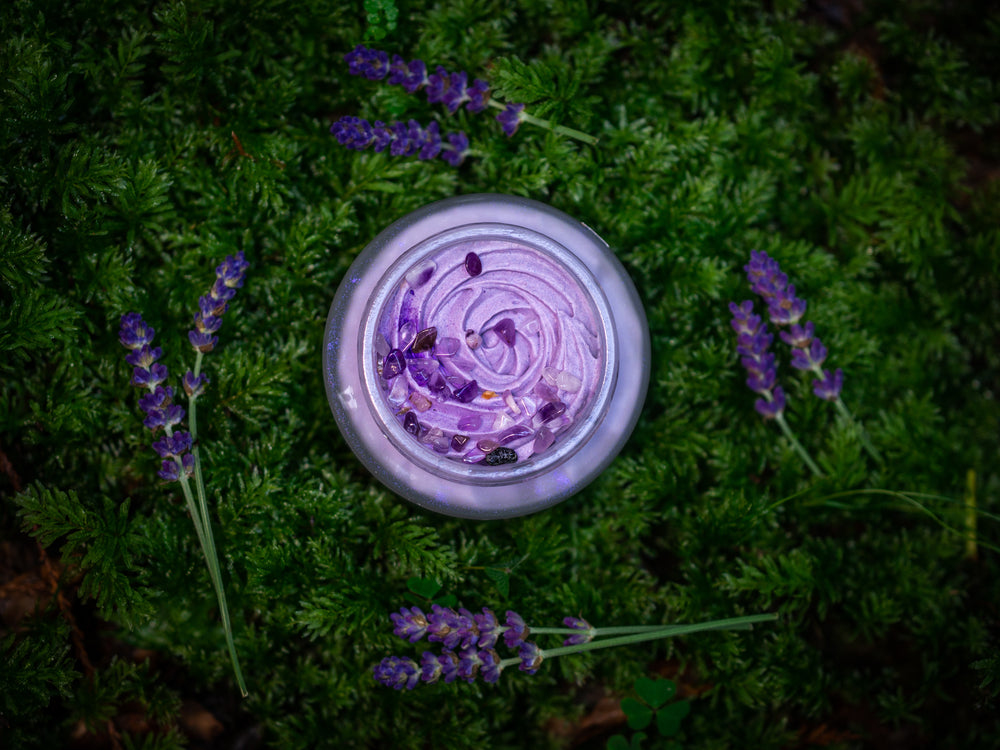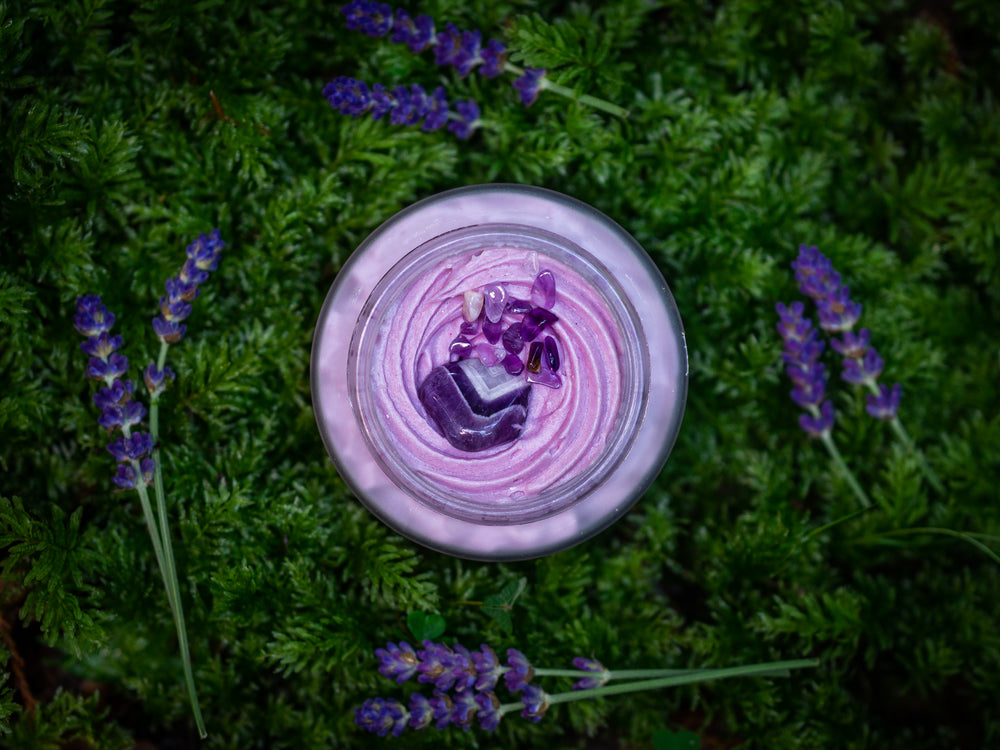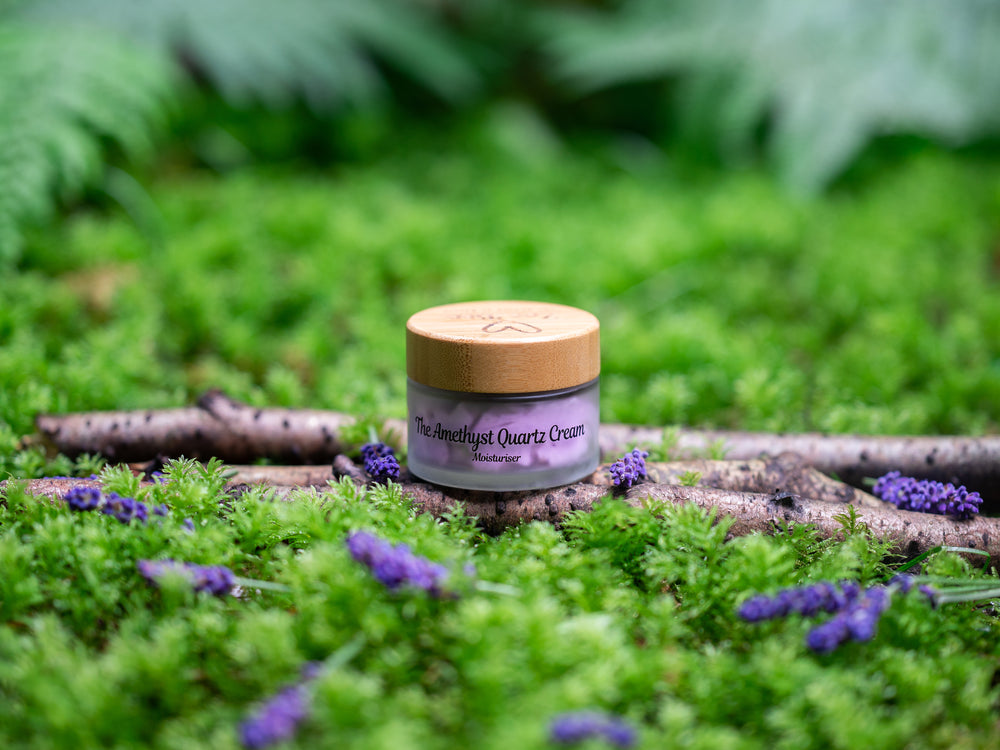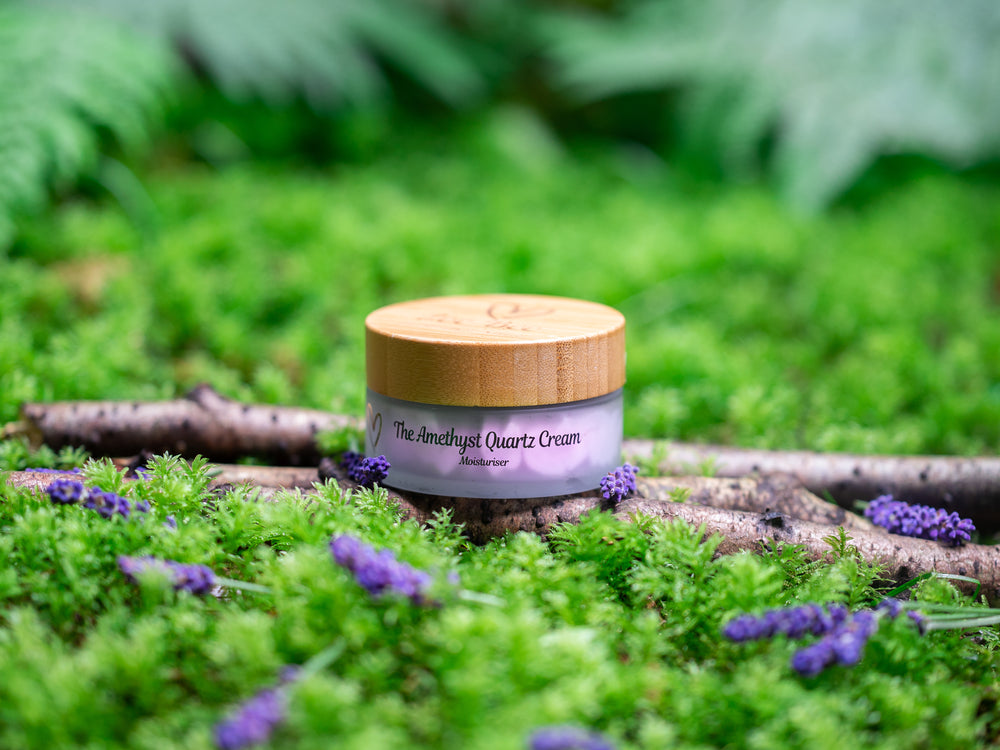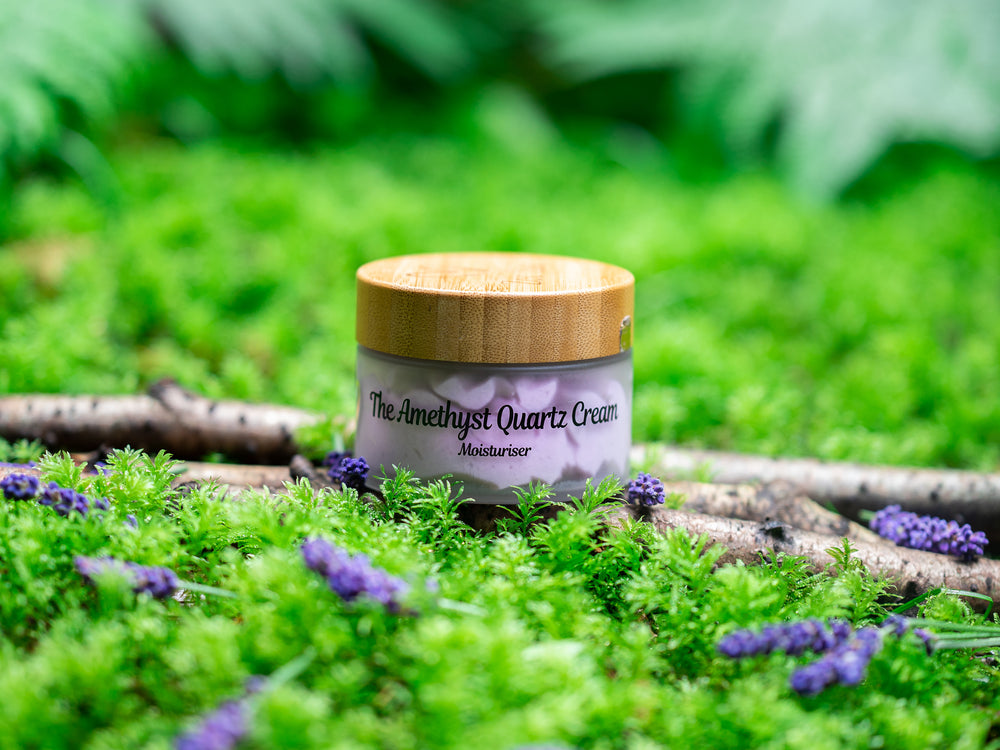 More about this product
How our Amethyst Quartz Cream works:
 The Amethyst Quartz Cream harmoniously combines skin-nourishing shea butter and our specially selected ingredients with charged amethyst quartz crystals to create the perfect hydrating night cream - for those who love their beauty sleep!

We include antioxidant-rich blackcurrant and açai extracts - providing vitamin C and vitamin E to keep your skin looking young and feeling firm and fresh.
Amethyst quartz crystals have been valued for their powerful, energy-balancing properties by many different cultures over thousands of years. In Ancient Greece they were believed to prevent intoxication! Nowadays they are often used for reducing anxiety, insomnia and nightmares. 
Get ready to wake up looking and feeling refreshed with beautiful, flawless skin!
Top Tip: Apply the Amethyst Quartz Cream before bed. Wear alongside a satin eye mask for a peaceful night's sleep. We also love satin pillow cases to keep skin hydrated, youthful and fresh.
Store in a cool, dry place.
Perfect for adults and babies.
No Artificial Fragrance
No Synthetic Colours
Paraben Free
No Phthalates
Palm Oil Free
Alcohol Free
Vegan Friendly
Raw
Cruelty Free
Organic
One purchase = One tree planted 
All Zoe Bee products comply with current EU Regulations and have a cosmetics products safety report. We are a fully compliant company.
Ingredients: Butyrospermum Parkii, Zinc Oxide, Simmondsia Chinensis Seed Oil, Lavandula Angustifolia, Ribes Nigrum, Euterpe Oleracea, Charged Amethyst Crystal
All ingredients are sourced worldwide from their direct source at their country of origin. Supporting local communities is so important to us. We only use unrefined, organic, pure and the highest of quality ingredients. All packaging is plastic free and we continue to always be a planet friendly Company.  Disclaimer: Due to being a natural product the colour, scent and texture may vary.
Amethyst cream .
Love using this every other night.....love the smell & texture ....My skin feels lovely the next morning 😍
Smells lovely and looks beautiful 😍
Omg these creams are amazing .So thick so dont need alot ans the fact it has real amethyst in the top of jar .They are done personally with love care and attention .Not on a conveyor belt or by robots .Love love my creams from ZoeBeeBeauty 🐝
My skin is so much better now
Been suffering from the eczema for few months, got introduced the Zoe bee creams online and can't believe it has changed my skin , i have now recovered from the eczema together with avocado and aloe cream! Definitely recommend them
My ZB journey
Has changed my skin completely and my husband finds me more beautiful than before xx highly recommended <3
Amazing natural products
After suffering a skin condition 2 years ago, and using Zoe's products to clear it up, I wouldn't use any other product
LOVE LOVE LOVE
Absolutely love this little set Absolutely perfect to try see what creams are right for you
Also perfect as a gift to show some one how amazing these creams really are!
The difference in my skin after 2 weeks is insane and I keep getting compliments on my skin now
Thee Best
I just love Zoe B . Her creams are a dream to apply. Just love them all , hard to choose a favourite x
Amazing cream. Gorgeous subtle smell my skin loves it at night time
Love this cream
I bought this cream as I wanted something to help keep my skin smooth and supple as it has changed so much during menopause. Love the smell and it's really helped with the dryness and reddening of my face
Our Values
Free UK Delivery
On orders over £40
Cruelty-Free Vegan Products
Skincare That Actually Cares
Personalised Advice
Need help? Ask Zoe!
Make a difference
A percentage of every purchase is donated to Flori's Friends