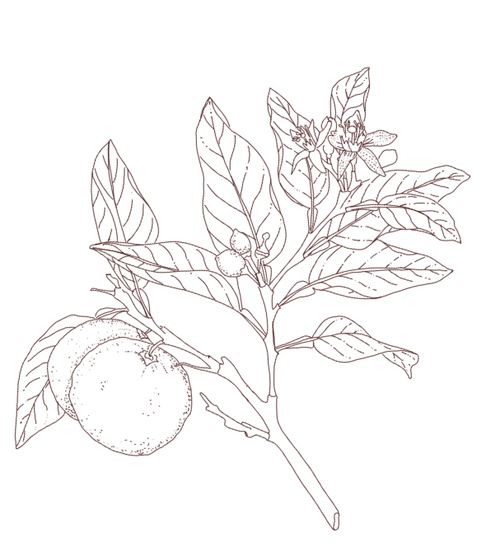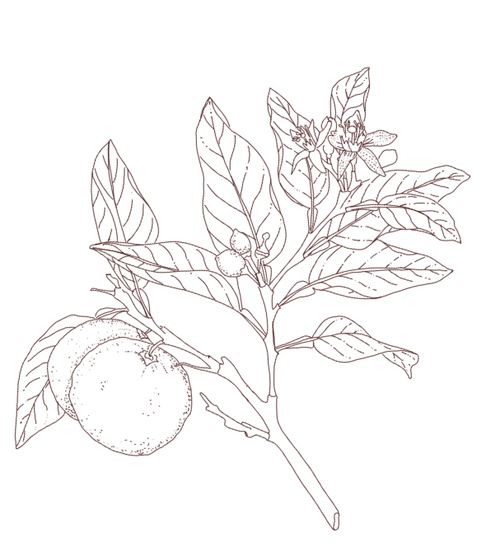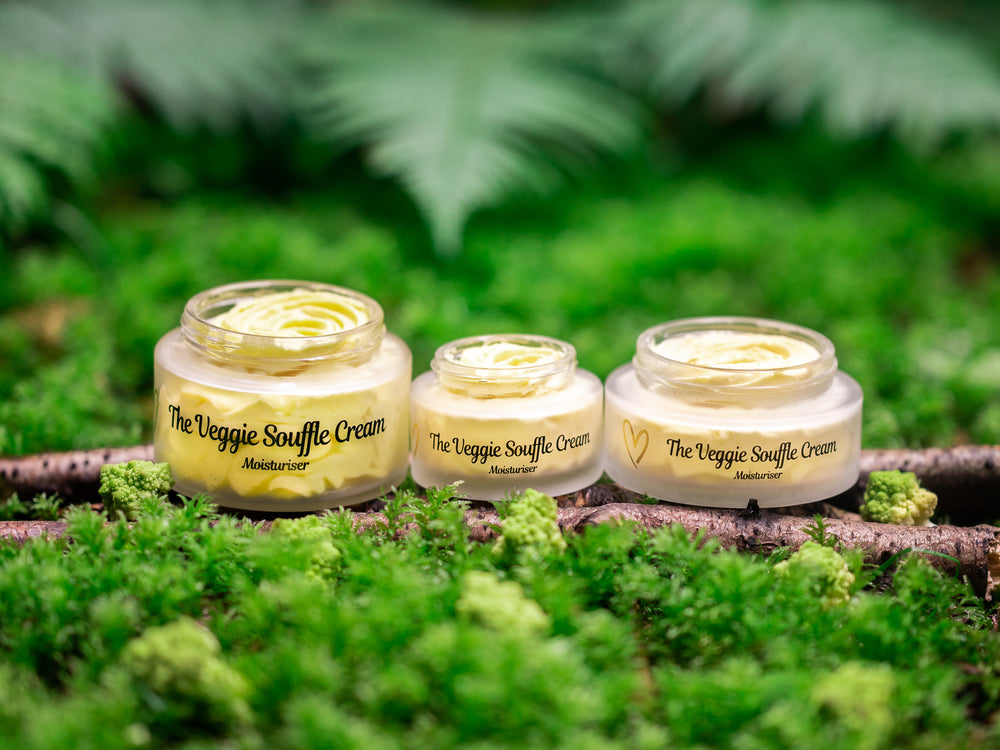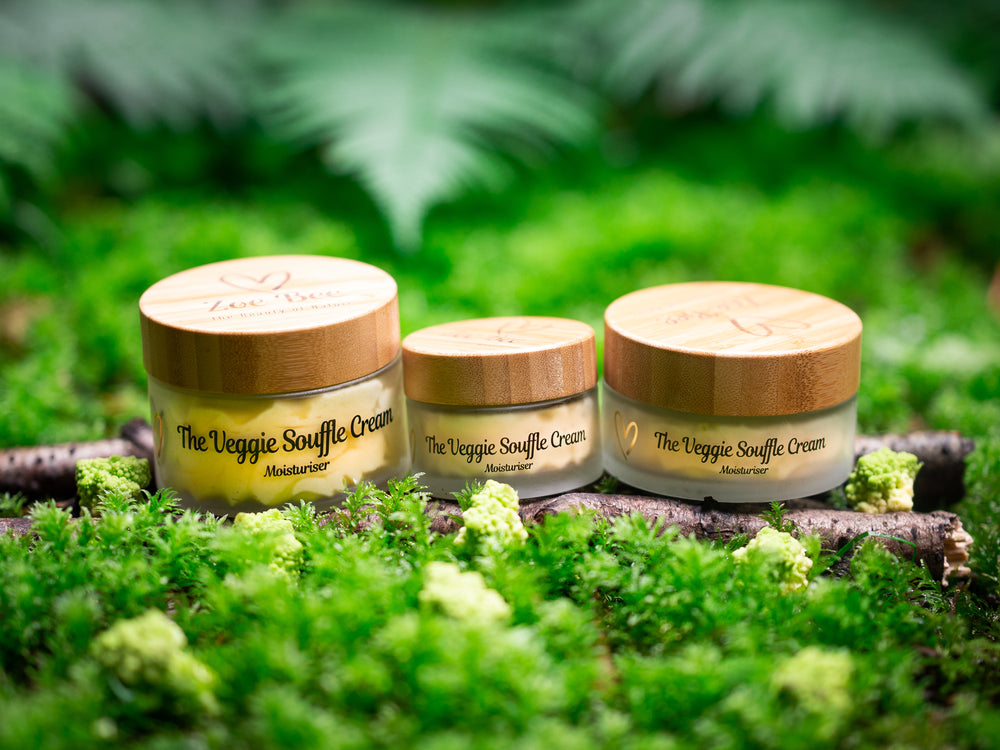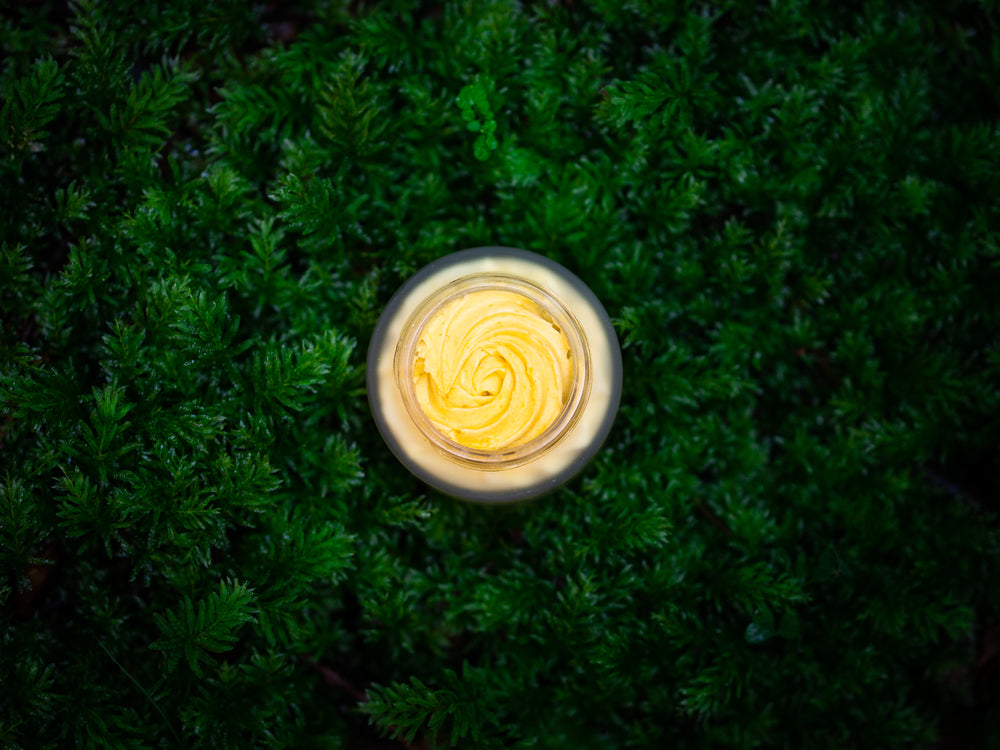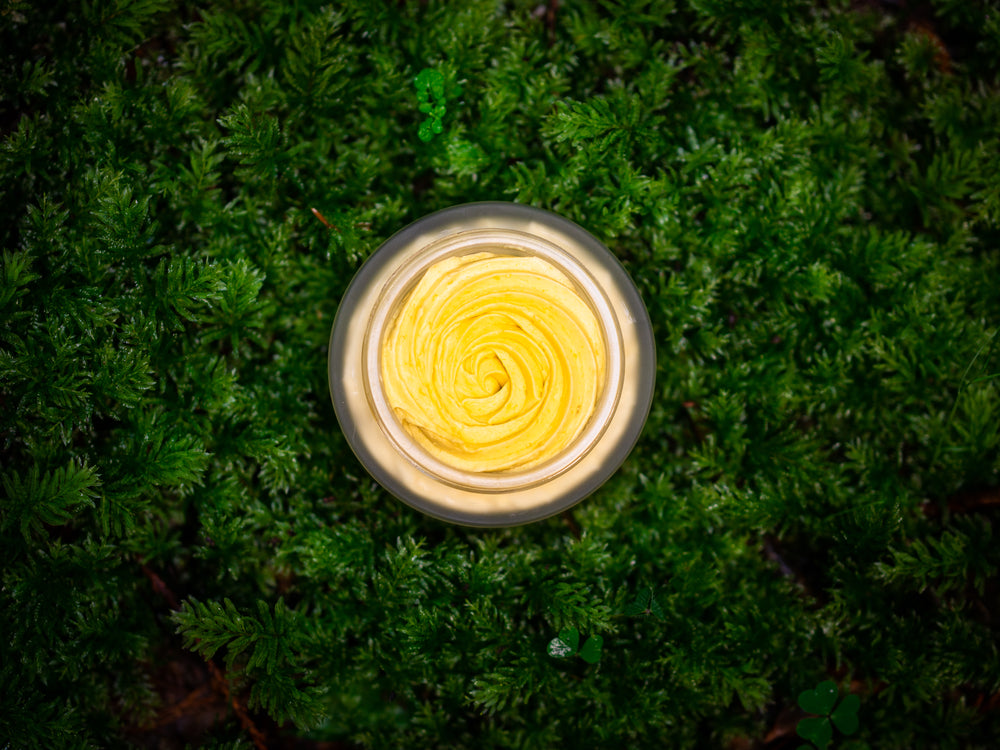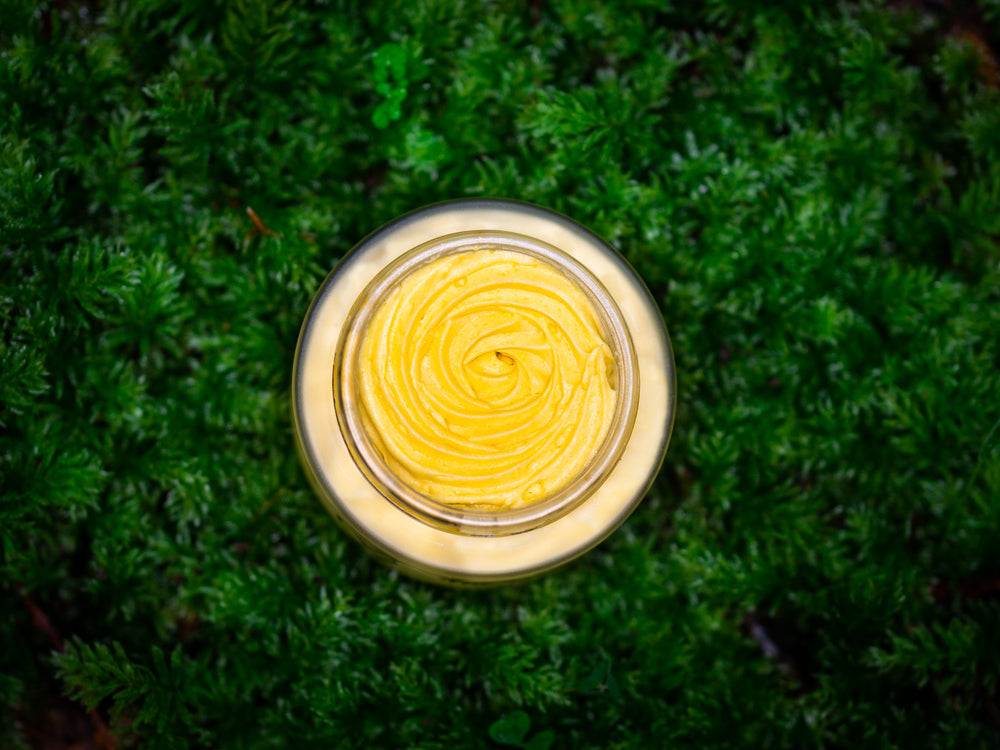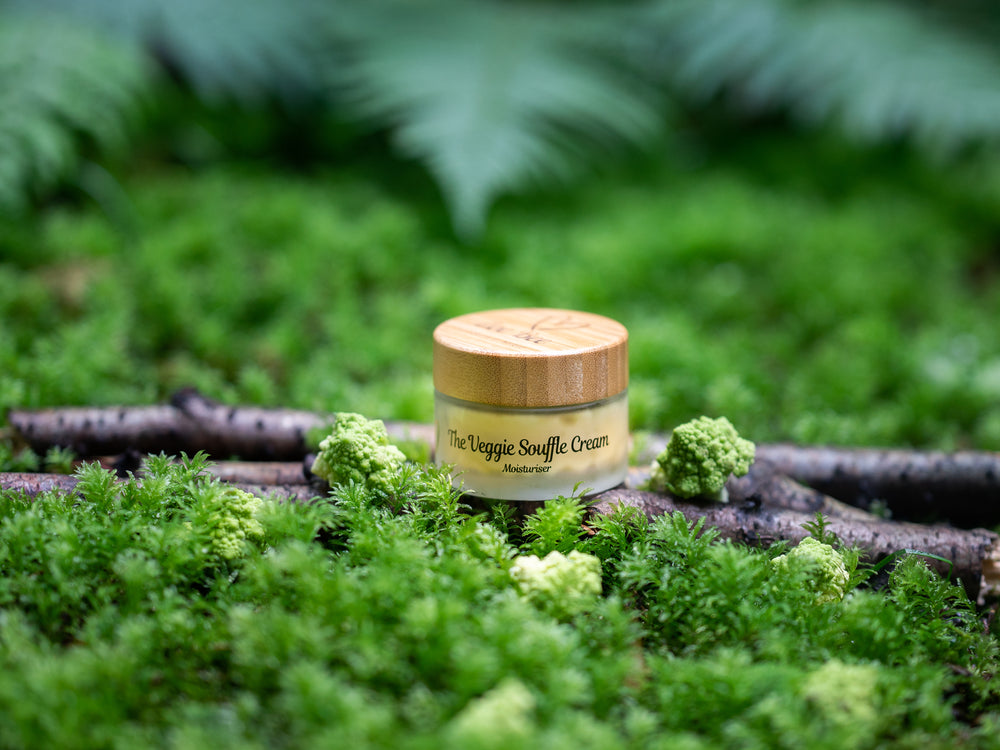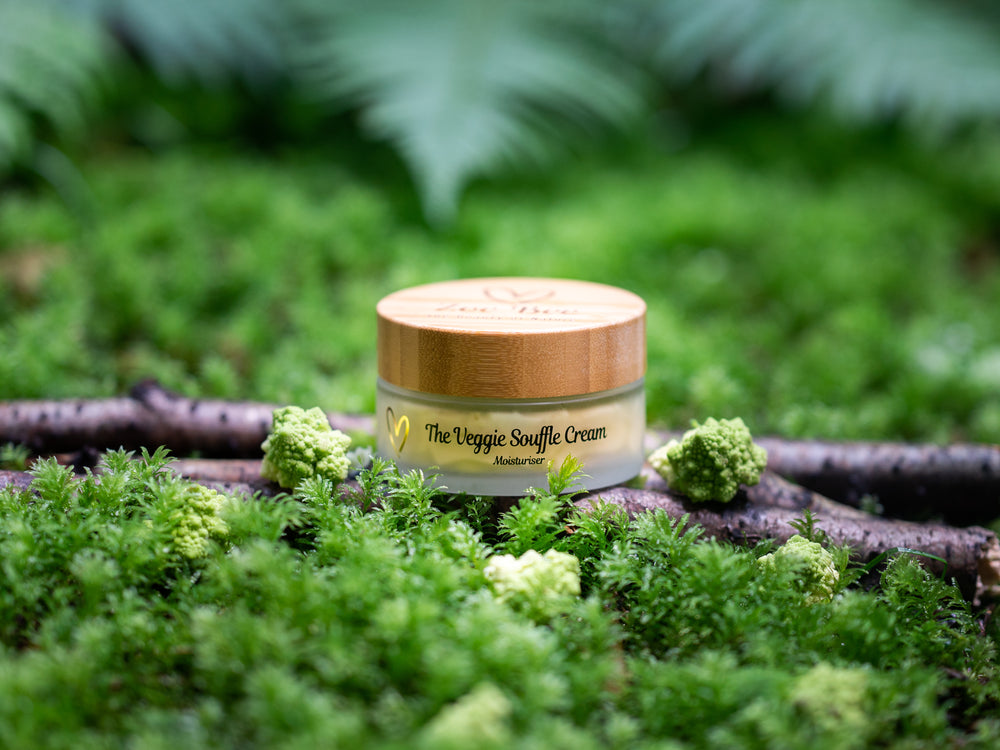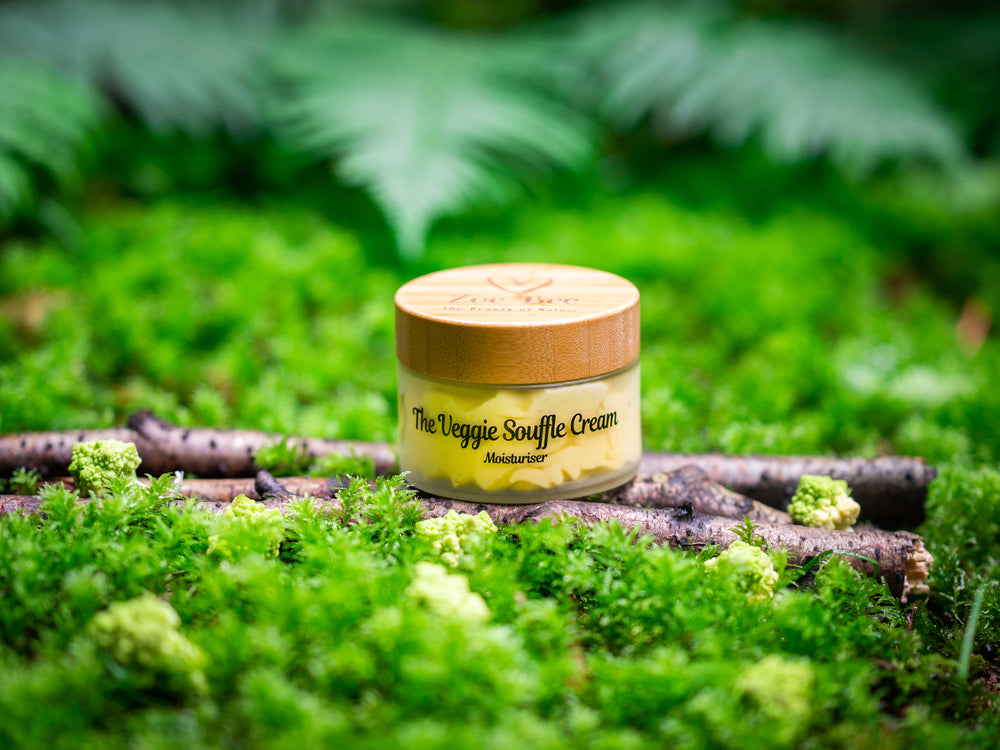 More about this product
How our Veggie Soufflé Cream works:
This jar of sunshine is a hidden gem. The beautiful Veggie Soufflé has a unique combination of fatty acids and antioxidants that keep skin looking fresh, reducing redness and nourishing sun damaged skin. It's jam-packed with 2% super vitamin C, and vitamin E for a daily skin super-charge.
We included natural skincare ingredients like carrot seed because of its ability to rejuvenate the look and feel of your skin. Scientists think this has something to do with the "carotol," a primary component found in carrot seed oil. The oil also has moisturizing vitamin E and protective vitamin C, which work together to help bring new life to skin. 
Turmeric and broccoli are also infused into this delightful butter to help reduce dark pigment and even out skin. 
High in skin soothing fatty acids like Omega 6 and 9, these nutrients deliver intense hydration with pumpkin extract for a boost of antioxidants.


Top Tip: Use Veggie Soufflé as an intense overnight treatment or as a day cream. We recommend you wear SPF daily to prevent further damage or pigmentation. Apply your cream, wait ten mins and then apply SPF of your choice. (Don't forget SPF needs to be worn all year round)
Store in a cool, dry place.
Suitable for adults and babies.
No Artificial Fragrance
No Synthetic Colours
Paraben Free
No Phthalates
Palm Oil Free
Alcohol Free
Vegan Friendly
Raw
Cruelty Free
Organic
One purchase = One tree planted 
All Zoe Bee products comply with current EU Regulations and have a cosmetics products safety report. We are a fully compliant company. All products are made by Zoe Bee herself in a lab. 
Ingredients: Butyrospermum Parkii, Citrus Aurantium Dulcis, Curcuma Longa, Zinc, Daucus Carota Sativa,  Simmondsia chinensis, Cucurbita Pepo, Brassica Oleracea Italica, Michelia Champaca 
All ingredients are sourced worldwide from their direct source at their country of origin. Supporting local communities is so important to us. We only use unrefined, organic, pure and the highest of quality ingredients. All packaging is plastic free and we continue to always be a planet friendly Company.  Disclaimer: Due to being a natural product the colour, scent and texture may vary.
I rely on the Veggie Souffle!
My second jar of the wonderful healing veggie souffle and it keeps my skin feeling healthy and nourished, as otherwise it's dry and irritable. It also keeps my angular chellitis at bay. It's been an aid to my husband's rosacea too and I even use it to calm flyways on my hair. To top it off I love the fresh smell of lemon oil! I don't know what I'd do without this cream!
My skin feels so soft. After using it, I had people come up to me and say how good my skin looked.
Quality product from an ethical supplier
Super soothing moisturizer
Loving this cream for my dry, flaky red and sore skin. I have struggled with a mixture of oily and dry areas on my face with psoriasis in areas too. But this has worked brilliantly for everything. A little really does go a long way, the pea sized amount is plenty for my whole face. Whenever I have tried new products in the past they leave my face more red, sore, itchy or too dry. This cream however immediately felt calming. I love rubbing it in my hands to warm it and soften it then massaging into my face. Worked great morning and night. So glad to have found a cream I can tolerate and looking forward to getting online to buy a full sized pot! I ordered the small trial size initially to see if this would work for me, and that had lasted over two weeks, when I first saw the size I panicked it would only do me a day or two but a little really has gone a long way. Thanks!
Helps with pigmentation
My daughter had a slight pigmentation patch on her neck & the veggie soufflé had helped with it. Thanks for the recommendation 👌🏼
Very happy
The creams are lovely, do exactly what they say and because only a little is needed, the creams last ages. Customer service is lovely as well
Veggie Soufflé feels so nourishing to the skin.
Life changing!
I have psoriasis/rosacea. Since the start of the year I stopped using all steroids/protopic on my face and only use this cream at night. At my recent dermatology appointment the consultant said she wouldn't have said there was any issue with my face based on how it looks now. A great product!
Our Values
Free UK Delivery
On orders over £40
Cruelty-Free Vegan Products
Skincare That Actually Cares
Personalised Advice
Need help? Ask Zoe!
Make a difference
A percentage of every purchase is donated to Flori's Friends